Unicorns, next-generation CRM platforms and household names all joined the Firefly roster last quarter.
Firefly Communications Group is poised for an excellent 2019, following a series of client wins which helped increased its revenue by 18% in the last quarter of 2018. The pan-European technology PR agency, which also celebrated its 30th year in operation last year, secured significant success in 2018, helping to shape the reputations of technology firms across the world.
Client wins across all offices
The London, Paris and Munich offices all secured a number of client wins last quarter with a range of technology-based companies. Following a major funding round, AI-based HR platform PathMotion appointed Firefly UK and France to help announce and raise awareness of its funding to the UK and French media. Meanwhile, Firefly Germany helped health tech company, MaxQ-AI, forge relationships with key decision makers through a paid social campaign.
Firefly UK bolsters travel and retail experience
Firefly UK also helped travel site unicorn, Klook, to launch in the UK, supported Hitachi Consulting with a high-street retail project, and built up UK awareness and presence for productivity CRM platform, Copper (formerly ProsperWorks).
Elsewhere, during 2018, engineering simulation business, ANSYS, and application delivery and development platform, NGINX, appointed all three of Firefly's agencies in the UK, France and Germany to handle their communications campaigns, following competitive pitch processes for each.
Claire Walker, Group CEO at Firefly Communications Group commented, "2018 was a strong year for Firefly Communications Group, from catching our first 'unicorn' to ongoing work with two organisations (NGINX and ANSYS) that both collaborate with NASA. It is clear evidence that the market has a growing appetite for smart, tightly-focused communications campaigns that make a tangible impact on a company's reputation. It is also proof that if you are responsive to change, hire intelligently and execute brilliant campaigns, you can be successful for three decades – and beyond!"
If you'd like to read more from Firefly and stay in touch, please click here to sign up: https://fireflycomms.com/newsletters/
As we end up saying time and time again, this year has flown by. Many things have happened, but Christmas is a time to reflect on the positive and exciting moments we shared as a PR agency in 2015, and below we've put together a collection of our top moments for the year and our reactions to them – in GIF form of course!
1. Hijacking drones for April Fools' Day and PR research
Drones were a big topic in technology media this year, and through our newsjacking via consumer research, we achieved over 40 articles for Give as you Live. This contributed to an uplift in organic search – people typing 'Give as you Live' into Google – as well as a better sign-up conversion, based on Google Analytics Goals analysis.
Firefly also claimed to launch a new drone to deliver press releases straight into journalists' hands, but it was all an April Fools' joke, of course!
2. The KIDS charity Firewalk
A few of the Fireflies bravely took part in the KIDS Charity Firewalk at the start of November, walking across 20ft of hot coals and learning that "We are magnificent! We are amazing! We ARE fantastic!"
Oprah's reactions sum up the experience pretty well.
3. Hazel, Christian and Kiran join the Firefly team
While we said goodbye to some, we also said a great big hello to Christian, Hazel and Kiran, who joined as senior account director, senior account manager, and London team administrator respectively. They've all been integral team members so far, and even managed the Firewalk.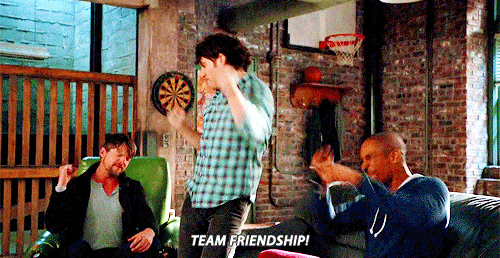 4. Client wins
We were pleased to welcome some new work with a win of four new clients in 2015, including Cornerstone OnDemand, COINS, Softmaker, and Quattro Plant Group.
5. Looking into the Crystal ball
Ever wanted to know the right way to read a journalist or client, but can't pick it just from their picture? We discovered Crystal, a tool that helps people understand and communicate with each other better by drawing a picture of their personality based on their online profiles – and it's pretty accurate too!
2015, you've been swell! We look forward to seeing what 2016 brings our way.
Christian's remit will be to support Firefly's ongoing mission to bring greater clarity to how campaigns are run, whilst also exploiting evolving channels and tactics to help client organisations achieve their communications objectives. He joins from Threepipe where he led the B2B team, running a combination of PR, social and content-led campaigns for brands such as Oracle Primavera, MindLink and the Chartered Institute of Management Accountants.
Christian brings a range of experience to Firefly, from enterprise brands Motorola, BMC Software, Rackspace and Computacenter, to start-ups uMotif, WeSwap and pro-bono work with IDEALondon, Cisco, DC Thomson and UCL's start-up incubator.
Firefly Group CEO Claire Walker says, "Our clients are under pressure to deliver impactful communications activity across a range of channels, without re-inventing the wheel. Christian's work across organic and paid online channels – as well as a solid heritage in PR and media relations – will bring a great deal to our offering."
Prior to Threepipe, Christian worked at agencies including Spark, Waggener Edstrom and The Octopus Group on a range of campaigns including launching Rackspace's OpenStack cloud in the UK in conjunction with NASA, opening the UK's first eSports arena with Gfinity, and running an award-winning campaign with AdaptiveMobile examining Wi-Fi filtering in public spaces.
You might think just a few weeks after 9/11 and in the wake of the dotcom bust was a daunting time to establish an overseas branch of a European PR agency – and it was – but it didn't stop Firefly. Ten years ago, we scoured many of the 16 states of Germany to find a suitable home for Firefly's German office. We chose Munich, known locally as the "Silicon Alps". The name says it all: at the time, our PR clients were largely active within the technology field and many of them still are, although a third of our client base is now consumer-focussed, spanning the retail, fashion and lifestyle sectors.
The past decade has seen huge developments in the way we communicate including the launch of Facebook, the iPhone, iPad and the rise of social media, to name a few. It's a decade that's seen production of the VW Beetle come to an end, the first German Pope for almost 500 years, and even Germany win the Eurovision Song Contest! The face of public relations has also changed dramatically during this time.
I was recently asked what things had the most impact on me since moving here from working at Firefly London in 2001. Aside from the 187th Oktoberfest which has just finished down the road, below are 10 events which have undoubtedly had a profound effect on Germans and German society over the last decade:
1. The introduction of the Euro. My first half-year in Germany was spent getting acquainted with the currency of the largest economy in the European Union – the Deutschmark (DM) – before switching over to the Euro in early 2002. Overnight, the groceries in my supermarket basket cost more and Germans complained of many retailers and restaurants, for example, cashing in on the new currency. Today Germany is locked into wider-reaching debates, such as the EU bailout funds and the future of the Eurozone.
2.  First female Bundeskanzler. Angela Merkel or 'Angie' as she is also known is Germany's first female chancellor. She swept to power in November 2005 and in 2007 she became only the second woman to chair the G8 summit, after Margaret Thatcher.
3.  Healing the German psyche, one World Cup at a time. Although vuvuzela-less, the noise and atmosphere surrounding the opening World Cup game in the Allianz Munich arena in 2006 is something I'll never forget. From a personal perspective, this was the first time I had seen Germans 'allowed' to wave their national flag en masse since the reunification. Germany's relationship to its symbols improved, as did its reputation, and undoubtedly the national optimism of the ensuing "Sommermärchen" (summer fairytale) helped melt away the hold of the second recession in a decade.
4.  The 20th anniversary of fall of the Berlin Wall took place in 2009. I was lucky enough to be studying in Frankfurt when the Berlin Wall fell in 1989. I immediately hopped on a train and made the trip to Berlin, which shortly afterwards became the capital of the new Germany. The atmosphere was unforgettable. Much has happened since that initial euphoria. The former Soviet-dominated east has struggled to catch up with the more affluent west after reunification. People in west have had to pay a higher than expected financial price. But the difference between eastern and western Germany has never been as small as it is now.
5.  "Wir sind Papst" ("We are pope") was the front-page headline of mass-circulation daily newspaper, Bild back in 2005, delighted at the election of (the then-Cardinal) Joseph Ratzinger to the papacy. Formerly in Munich, he even christened a member of our German Firefly team many years ago and another member of our team once placed water and wine on the altar for him as a "Ministrant". We do still believe in miracles (!) but since then, Pope Benedikt XVI continues to divide German society and his nationality has invited greater scrutiny from his compatriots. His most recent visit to his homeland last weekend opened a minefield, as he continues to face criticism from liberal Catholics, MPs, gay and lesbian groups and progressive theologians. Emotions for and against him have always been very strong.
6.  The economic Autobahn. Not only is limitless speed something that has always simultaneously amazed and terrified me (nothing says, "I'm back!" louder than touching down at the airport before tearing down the Autobahn at 200km/hr), it seems there are also no limits to Germany's economic machine. Germany's recent economic performance stands out among rich economies. Last year its GDP grew by 3.6%, the fastest rate since the country was reunified in 1990. Exports have been Germany's economic engine: no other big, rich economy has seen its exports to China grow so quickly in the past decade.
7.  U-turn for nuclear power. The strength of Germany's Green party was apparent to me as soon as I arrived. Home recycling even a decade ago was not about two, but three, four even five different containers. Even public transport litter bins were clearly sectioned. I now live in a house that has heating bills a third of my old ones back in UK, as my hot water and central heating runs entirely on pinch-sized eco pellets that look remarkably like hamster food! So I wasn't entirely surprised when, in the wake of March's Fukushima disasters, anti-nuclear protests across Germany caused the coalition government to announce a reversal of policy to phase out all the country's nuclear power plants by 2022.The decision makes Germany the biggest industrial power to announce plans to give up nuclear energy. The search for sustainable energy is on. Germans aim to cut electricity use by 10% in the next decade through more energy-efficient machinery and buildings.
8.  Christian Wulff was elected Germany's 10th post-war president in July 2010 to replace Horst Koehler, who was the first ever German president to resign. "Who?" you may rightly ask. Before I lived in Germany, I had no idea about the president who holds a 'Head of State' function in the absence of a monarchy and represents Germany overseas (including at royal weddings!). Germany's international profile has been growing over the past decade. The country sent peacekeepers to the Balkans and its forces have been involved in operations in Afghanistan.
9.  The uptake of Facebook and leading local social networks such as Xing and StudiVZ was slower in Germany than in the UK. But by the time I'd returned to work after a year's parenting leave from mid-2007, it really hit home: social media was a well-entrenched part of our daily business, radically changing the way we planned and implemented our PR strategies. By March 2011, nearly 80% of Germans (65.1 million people) were online, Internetworldstats reported.
10.  It's official! Germans are much happier than in the past! According to the first German happiness study or "Glücksatlas Deutschland 2011" and also involving one of our clients behind the scenes: "Germans are happier today than they have been in the past ten years. The financial crisis of 2008/2009 lowered happiness levels only a bit. The German happiness level is 7.0 on a scale of 0 to10. The last time it was this high was in 2001."
Coming from a recent celebration of 10 years in Bavaria, 2000m up a mountain, I can certainly vouch for the latter.