We are currently witnessing the dawn of large language models (LLMs), such as ChatGPT. These are changing the way we work and the way we learn – particularly the way we search for information. There has been a huge reaction from education leaders, worrying about such tools being used to help students cheat their way through their studies, or fearing that they will be fed incorrect information.
On the other hand, in the workplace, GenZ employees have bought into the AI hype. They are using the technology to help them with various work tasks, but have a huge fear of managers finding out. This is due to lack of company regulation around whether they should or shouldn't be using these tools to support their work.
The real conversation here though is, how useful is ChatGPT and other similar tools when it comes to research? With over 80% of the search market share, Google is the household favourite, but even Google has its limitations. Google is set up to search by keywords, but not to dive into granular and complex questions. For example, if I use Google and search 'AI', the results come back with a multitude of news items, various descriptions of AI and a range of company articles using the term 'AI'. 
This is where tools like Chat GPT come in. Using an LLM, I have the ability to ask a question such as 'Can you describe what AI is', and it comes back with a detailed description of AI and its use cases. This is information that can be pulled into any written work without having to use a single brain cell. This type of language model has the ability to understand and respond to natural language and provide answers that are both informative and entertaining, generating a variety of responses to each user's questions.
However, the major limitation of ChatGPT is that the data only runs up to 2021, so for many trying to use this tool, the information will be far too out of date to create current and reliable content. This is a major point for those working in tech comms, as the speed of innovation is so fast that information quickly becomes outdated.
Aside from this limitation, there have also been concerns around the ethical implications, including privacy, bias in training data and lack of human interaction. More commonly used search engines don't have these same problems, and therefore are more reliable to use for research. Using a manual search engine relies on people to manually gather and organise their own data and information, based on the latest information available. On the other hand, an AI search engine relies on computers and algorithms and their pre-trained and installed data to produce results. This is one of the key differences when using either for searching.
However, a search tool is only as good as the data it provides. Google provides results to our keyword searches based on the algorithm it uses to deem information credible. ChatGPT hasn't yet been transparent about its sources, which again makes using it for research difficult.
Looking at this from a comms perspective (as we're comms people after all) these changes will be significant to our output. Firstly, we're constantly researching to ensure we are knowledgeable for our clients. But secondly, and importantly, a lot of what we do influences Google results. An amazing article about our client in a national newspaper like the Financial Times, will feature at the top of search results and will have an impact on that company's reputation. In B2B, the sales process often starts with Google! But as LLMs continue to develop, what will it mean for a company's reputation and how they feature in LLM results?
There is no doubt that LLMs will continue to have a huge impact on the way we search, work, and learn. We're at an important juncture, where not only the likes of Google will look to make significant changes to its platform, but we'll also see a huge range of new players enter and compete in the 'AI race'. It's not too dissimilar to when we witnessed the disappearance of Nokia, Motorola and Blackberry as Apple and Microsoft became the dominant players in the mobile phone evolution. I think we'll see something very similar happen here!
It has always been essential for businesses to maintain a solid reputation. However, this has taken on another level of importance in the modern context. Social media, 24-hour news cycles and the ubiquity of information have put reputational issues at the forefront of any organisation's strategy.
Efforts must be made in terms of public relations, brand management and leadership reputation, but it cannot stop there. To build a truly robust reputation, those who represent your company in day-to-day interactions should fully understand the values you wish to project.
Those who are responsible for sales, by definition, have a huge impact on any business's success. However, this goes beyond revenue generation. They are also a significant driver of your wider reputational efforts due to their countless interactions with the outside world, including current or prospective customers, partners, sponsors and beyond.
If your firm has a poor sales reputation, this will impact the overall image you portray and may even go against other efforts by your leaders or marketing. As a result, it is critical that your sales teams are kept updated on reputational matters—and are well-versed in your firm's values and are able to communicate them effectively.
Building A Strong Sales Reputation
A lingering and often unfair perception of sales teams is that their approach can be too "pushy" and not focused on building trust or those long-term relationships that are so important to creating sustainable success. Highlighting the importance of honesty and transparency in negotiations is something that the majority of businesses will already be doing, so what other efforts can be made?
Fundamentally, all your employees must buy into your company's ethos and what it is trying to achieve. We have all been in an organisation or dealt with a representative of a company who couldn't care less about how they or the company are perceived. As much as we may try not to let them, these sorts of interactions can have a strong influence on our opinion of the company, and if many others have the same experience, this can cause significant reputational damage.
Therefore, it is important for your company's leadership to maintain a two-way dialogue with its people. To a large extent, reputation will be top-down—the heritage, culture and personalities of those who founded or run the company will have a significant impact on how it approaches sales and the reputation it wants to build. However, it is important to not be out of touch and to make sure to listen to the wishes and outlook of the people you have throughout your organisation.
There is a wide societal focus on authenticity, and we have seen many examples of companies being called out, even canceled, for not living up to the high moral standards that consumers and workers have these days. For example, many companies have been accused of greenwashing, being misleading in their advertising or having sales practices deemed out of sync with their values. Clearly, this will have a big impact on the reputation of the firm more broadly, but also on sales teams. A team should be comfortable promoting a product or service, not worried about having to make any moral compromises. This can make them more effective in driving revenue and helping build a more positive reputation.
Measuring A Strong Sales Reputation
Revenue is a good measurement of many business outcomes, and reputation is no exception. If your revenue figures are strong, it is likely that a strong reputation has helped make that happen. However, it is a mistake to not look beyond revenue and seek different indications as to how your reputation is doing. The use of customer success teams can be a great way to keep in touch with customers throughout the lifecycle, getting constant and useful feedback to measure how your company is doing and the way it is perceived by your customers. Similarly, engagement programmes between stakeholders and your senior team can also fulfill a critical role and ensure that strong bonds are created and trust is shared.
Other established ways of measuring satisfaction beyond simply revenue include the Net Promoter Score (NPS)—a score that organisations are given that measures how likely a customer is to recommend or promote that company to someone else. This can help give a good indication as to how your brand is viewed—for example, if you have strong revenue figures but a poor NPS, trouble may be down the road.
However, due to NPS' simplicity, it has its limitations regarding the insight it can give you into customer sentiment and behavior. This is why it is important to review all of the different metrics out there and use the one you think would be most relevant to your business. It may even mean combining a few different ones to try to fully understand your reputation and the lasting impressions that your sales team leaves on customers. As a result, a concerted focus on not only revenue and outcomes but on the process to get there should be factored into all strategic decisions and subsequent training of your workforce.
In business, what you say matters, but what you do is crucial—the reputation you're building is only legitimate if those in your company back it up with their actions. This is why building a positive reputation and putting wider reputational efforts at the core of your business, prioritising them alongside other key business goals such as revenue or costs, is key to future success.
In the world today, talk travels quickly, and there are countless examples in recent times of business outcomes being inextricably linked to the perception a company has in the public forum. Ensuring that you approach sales with integrity, transparency and honesty is more important today than it ever has been. Creating the right culture within your company can lead to the right reputation being presented outward.
This month, Eurovision exploded back onto our screens in all its campy, zany, extravagant glory. Broadcast from my hometown of Liverpool, millions of people across the globe danced and sang along to some predictably cheesy music – in my eyes, Finland were the clear winners. This celebration of diversity, inclusivity, creativity, and culture was a clear reminder that the human influence is invaluable for businesses – particularly as AI creeps further into our lives.
There's an overall mix of curiosity around how AI can help companies, fears about it negatively impacting jobs, and pressure to regulate it as it grows more knowledgeable. It can perfectly replicate human voices, churn out content in seconds, and explain advanced astrophysics to a five-year-old. It can't, however, replicate or replace the human touch, particularly when it comes to reputation shaping.
AI isn't going anywhere. There are around 5,855 tools that have the potential to be used in PR currently available online, and that number will only continue to rise. But a reputation is curated through the business' relationship with the public, and relationships are the foundation of the human experience. By working solely off data, AI tools lack the emotional intelligence, strategic thinking, and interpersonal skills that are so imperative in PR. If a business experiences a reputational setback, wants to improve media relations, or is looking for a creative new way to boost visibility, there is a need for soft skills that only us humans can bring to the table.
Eurovision is a perfect example of how the human influence shapes reputation. The longest-running annual international televised music competition, its reputation reflects its core value of uniting people and nations by showcasing musical diversity and cultural nuances. It is powered by human creativity and an understanding of culture, attracting audiences of over 180 million people across the world who share a wonderfully wacky and meaningful experience. Love it or loathe it, Eurovision's reputation has an undeniably and overwhelmingly positive impact on visibility, cultural influence, and tourism.
When considering how AI can discern a brand's reputation, the tools may be able to use their vast amounts of knowledge to gauge popularity, identify cultural differences, and calculate the positive financial impact Eurovision brings, but this information is gathered and collated through human input. Because AI lacks the aforementioned soft skills, its inability to think critically or creatively generates concerns surrounding ethics.
Firstly, if the human input is not neutral then the AI-based decisions are susceptible to bias or inaccuracies. This is especially concerning if a company is experiencing a reputational crisis, and neutrality and nuance are needed. One well-known example of this is the bubbling undercurrent of political tensions that surround Eurovision each year. Despite these, the event remains fiercely politically neutral, and makes every effort to bar highly politicised performances and promote peaceful relations, in order to avoid reputational damage.
Secondly, AI is inherently inauthentic, meaning that any creative ideas it suggests stem from human creativity. This also means that AI-generated content or ideas are more likely to result in plagiarism accusations, a serious reputational setback.
Thirdly, there are the ever-present fears around increased surveillance. Once an AI tool is fed a piece of information, it can never be retrieved and wiped from the database. If sensitive information is inputted, the tool has no understanding that it should not be outputted – and if that occurs, it makes for navigating some seriously tricky waters.
So, is AI the future of PR? It can certainly augment, but there's no doubt that the human influence will continue to drive the industry forward. And with the countdown on until the next Eurovision in Sweden, ask yourself – would this be nearly as much fun with a glittery, AI powered, humanoid robot on the stage? Personally, I'd prefer to see another rendition of the classic Ukrainian entry circa 2007, "Dancing Lasha tumbai". The contestants may be dressed like robots, but they are hilariously and undeniably human.
Unicorns, next-generation CRM platforms and household names all joined the Firefly roster last quarter.
Firefly Communications Group is poised for an excellent 2019, following a series of client wins which helped increased its revenue by 18% in the last quarter of 2018. The pan-European technology PR agency, which also celebrated its 30th year in operation last year, secured significant success in 2018, helping to shape the reputations of technology firms across the world.
Client wins across all offices
The London, Paris and Munich offices all secured a number of client wins last quarter with a range of technology-based companies. Following a major funding round, AI-based HR platform PathMotion appointed Firefly UK and France to help announce and raise awareness of its funding to the UK and French media. Meanwhile, Firefly Germany helped health tech company, MaxQ-AI, forge relationships with key decision makers through a paid social campaign.
Firefly UK bolsters travel and retail experience
Firefly UK also helped travel site unicorn, Klook, to launch in the UK, supported Hitachi Consulting with a high-street retail project, and built up UK awareness and presence for productivity CRM platform, Copper (formerly ProsperWorks).
Elsewhere, during 2018, engineering simulation business, ANSYS, and application delivery and development platform, NGINX, appointed all three of Firefly's agencies in the UK, France and Germany to handle their communications campaigns, following competitive pitch processes for each.
Claire Walker, Group CEO at Firefly Communications Group commented, "2018 was a strong year for Firefly Communications Group, from catching our first 'unicorn' to ongoing work with two organisations (NGINX and ANSYS) that both collaborate with NASA. It is clear evidence that the market has a growing appetite for smart, tightly-focused communications campaigns that make a tangible impact on a company's reputation. It is also proof that if you are responsive to change, hire intelligently and execute brilliant campaigns, you can be successful for three decades – and beyond!"
If you'd like to read more from Firefly and stay in touch, please click here to sign up: https://fireflycomms.com/newsletters/
As we end up saying time and time again, this year has flown by. Many things have happened, but Christmas is a time to reflect on the positive and exciting moments we shared as a PR agency in 2015, and below we've put together a collection of our top moments for the year and our reactions to them – in GIF form of course!
1. Hijacking drones for April Fools' Day and PR research
Drones were a big topic in technology media this year, and through our newsjacking via consumer research, we achieved over 40 articles for Give as you Live. This contributed to an uplift in organic search – people typing 'Give as you Live' into Google – as well as a better sign-up conversion, based on Google Analytics Goals analysis.
Firefly also claimed to launch a new drone to deliver press releases straight into journalists' hands, but it was all an April Fools' joke, of course!
2. The KIDS charity Firewalk
A few of the Fireflies bravely took part in the KIDS Charity Firewalk at the start of November, walking across 20ft of hot coals and learning that "We are magnificent! We are amazing! We ARE fantastic!"
Oprah's reactions sum up the experience pretty well.
3. Hazel, Christian and Kiran join the Firefly team
While we said goodbye to some, we also said a great big hello to Christian, Hazel and Kiran, who joined as senior account director, senior account manager, and London team administrator respectively. They've all been integral team members so far, and even managed the Firewalk.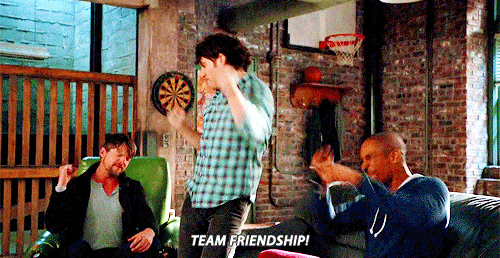 4. Client wins
We were pleased to welcome some new work with a win of four new clients in 2015, including Cornerstone OnDemand, COINS, Softmaker, and Quattro Plant Group.
5. Looking into the Crystal ball
Ever wanted to know the right way to read a journalist or client, but can't pick it just from their picture? We discovered Crystal, a tool that helps people understand and communicate with each other better by drawing a picture of their personality based on their online profiles – and it's pretty accurate too!
2015, you've been swell! We look forward to seeing what 2016 brings our way.
Christian's remit will be to support Firefly's ongoing mission to bring greater clarity to how campaigns are run, whilst also exploiting evolving channels and tactics to help client organisations achieve their communications objectives. He joins from Threepipe where he led the B2B team, running a combination of PR, social and content-led campaigns for brands such as Oracle Primavera, MindLink and the Chartered Institute of Management Accountants.
Christian brings a range of experience to Firefly, from enterprise brands Motorola, BMC Software, Rackspace and Computacenter, to start-ups uMotif, WeSwap and pro-bono work with IDEALondon, Cisco, DC Thomson and UCL's start-up incubator.
Firefly Group CEO Claire Walker says, "Our clients are under pressure to deliver impactful communications activity across a range of channels, without re-inventing the wheel. Christian's work across organic and paid online channels – as well as a solid heritage in PR and media relations – will bring a great deal to our offering."
Prior to Threepipe, Christian worked at agencies including Spark, Waggener Edstrom and The Octopus Group on a range of campaigns including launching Rackspace's OpenStack cloud in the UK in conjunction with NASA, opening the UK's first eSports arena with Gfinity, and running an award-winning campaign with AdaptiveMobile examining Wi-Fi filtering in public spaces.
You might think just a few weeks after 9/11 and in the wake of the dotcom bust was a daunting time to establish an overseas branch of a European PR agency – and it was – but it didn't stop Firefly. Ten years ago, we scoured many of the 16 states of Germany to find a suitable home for Firefly's German office. We chose Munich, known locally as the "Silicon Alps". The name says it all: at the time, our PR clients were largely active within the technology field and many of them still are, although a third of our client base is now consumer-focussed, spanning the retail, fashion and lifestyle sectors.
The past decade has seen huge developments in the way we communicate including the launch of Facebook, the iPhone, iPad and the rise of social media, to name a few. It's a decade that's seen production of the VW Beetle come to an end, the first German Pope for almost 500 years, and even Germany win the Eurovision Song Contest! The face of public relations has also changed dramatically during this time.
I was recently asked what things had the most impact on me since moving here from working at Firefly London in 2001. Aside from the 187th Oktoberfest which has just finished down the road, below are 10 events which have undoubtedly had a profound effect on Germans and German society over the last decade:
1. The introduction of the Euro. My first half-year in Germany was spent getting acquainted with the currency of the largest economy in the European Union – the Deutschmark (DM) – before switching over to the Euro in early 2002. Overnight, the groceries in my supermarket basket cost more and Germans complained of many retailers and restaurants, for example, cashing in on the new currency. Today Germany is locked into wider-reaching debates, such as the EU bailout funds and the future of the Eurozone.
2.  First female Bundeskanzler. Angela Merkel or 'Angie' as she is also known is Germany's first female chancellor. She swept to power in November 2005 and in 2007 she became only the second woman to chair the G8 summit, after Margaret Thatcher.
3.  Healing the German psyche, one World Cup at a time. Although vuvuzela-less, the noise and atmosphere surrounding the opening World Cup game in the Allianz Munich arena in 2006 is something I'll never forget. From a personal perspective, this was the first time I had seen Germans 'allowed' to wave their national flag en masse since the reunification. Germany's relationship to its symbols improved, as did its reputation, and undoubtedly the national optimism of the ensuing "Sommermärchen" (summer fairytale) helped melt away the hold of the second recession in a decade.
4.  The 20th anniversary of fall of the Berlin Wall took place in 2009. I was lucky enough to be studying in Frankfurt when the Berlin Wall fell in 1989. I immediately hopped on a train and made the trip to Berlin, which shortly afterwards became the capital of the new Germany. The atmosphere was unforgettable. Much has happened since that initial euphoria. The former Soviet-dominated east has struggled to catch up with the more affluent west after reunification. People in west have had to pay a higher than expected financial price. But the difference between eastern and western Germany has never been as small as it is now.
5.  "Wir sind Papst" ("We are pope") was the front-page headline of mass-circulation daily newspaper, Bild back in 2005, delighted at the election of (the then-Cardinal) Joseph Ratzinger to the papacy. Formerly in Munich, he even christened a member of our German Firefly team many years ago and another member of our team once placed water and wine on the altar for him as a "Ministrant". We do still believe in miracles (!) but since then, Pope Benedikt XVI continues to divide German society and his nationality has invited greater scrutiny from his compatriots. His most recent visit to his homeland last weekend opened a minefield, as he continues to face criticism from liberal Catholics, MPs, gay and lesbian groups and progressive theologians. Emotions for and against him have always been very strong.
6.  The economic Autobahn. Not only is limitless speed something that has always simultaneously amazed and terrified me (nothing says, "I'm back!" louder than touching down at the airport before tearing down the Autobahn at 200km/hr), it seems there are also no limits to Germany's economic machine. Germany's recent economic performance stands out among rich economies. Last year its GDP grew by 3.6%, the fastest rate since the country was reunified in 1990. Exports have been Germany's economic engine: no other big, rich economy has seen its exports to China grow so quickly in the past decade.
7.  U-turn for nuclear power. The strength of Germany's Green party was apparent to me as soon as I arrived. Home recycling even a decade ago was not about two, but three, four even five different containers. Even public transport litter bins were clearly sectioned. I now live in a house that has heating bills a third of my old ones back in UK, as my hot water and central heating runs entirely on pinch-sized eco pellets that look remarkably like hamster food! So I wasn't entirely surprised when, in the wake of March's Fukushima disasters, anti-nuclear protests across Germany caused the coalition government to announce a reversal of policy to phase out all the country's nuclear power plants by 2022.The decision makes Germany the biggest industrial power to announce plans to give up nuclear energy. The search for sustainable energy is on. Germans aim to cut electricity use by 10% in the next decade through more energy-efficient machinery and buildings.
8.  Christian Wulff was elected Germany's 10th post-war president in July 2010 to replace Horst Koehler, who was the first ever German president to resign. "Who?" you may rightly ask. Before I lived in Germany, I had no idea about the president who holds a 'Head of State' function in the absence of a monarchy and represents Germany overseas (including at royal weddings!). Germany's international profile has been growing over the past decade. The country sent peacekeepers to the Balkans and its forces have been involved in operations in Afghanistan.
9.  The uptake of Facebook and leading local social networks such as Xing and StudiVZ was slower in Germany than in the UK. But by the time I'd returned to work after a year's parenting leave from mid-2007, it really hit home: social media was a well-entrenched part of our daily business, radically changing the way we planned and implemented our PR strategies. By March 2011, nearly 80% of Germans (65.1 million people) were online, Internetworldstats reported.
10.  It's official! Germans are much happier than in the past! According to the first German happiness study or "Glücksatlas Deutschland 2011" and also involving one of our clients behind the scenes: "Germans are happier today than they have been in the past ten years. The financial crisis of 2008/2009 lowered happiness levels only a bit. The German happiness level is 7.0 on a scale of 0 to10. The last time it was this high was in 2001."
Coming from a recent celebration of 10 years in Bavaria, 2000m up a mountain, I can certainly vouch for the latter.
Is it time to shape your reputation?
We operate in London, Paris and Munich, and have a network of like-minded partners across the globe.
Get in touch
Sign up to Spark, our newsletter
Receive thought pieces from our leadership team, views on the news, tool of the month and light relief for comms folk
You can unsubscribe at any time, please read our privacy policy for more information