Wimbledon may be over and done, but while the sun is shining, tennis – followed by strawberries and cream, of course – is always on my to-do list. And it often makes me think that choosing an agency and running a pitch process can be a bit like a game of tennis. In short, sweaty and exhausting but thoroughly rewarding when it's done right.
I joke, but it's not easy on either party. And sometimes you've won or lost before you even get on the court; the wrong choice of opponent (or wrong shortlist of agencies) or playing on clay when you're used to grass – inviting an SEO agency when you need a social media firm – can cause you no end of headaches for the rest of the contract period.
So, with that in mind, dust off the old tennis whites, re-string that racquet sitting in your cupboard and join me as we run through how to get the most from the pitching process – and avoid your boss uttering the infamous line "you cannot be serious!"
Before the game
The other day I played tennis with my sister, Helen, for the first time in months, but I know that we're about the same standard. In the same way, picking the right longlist and shortlist of agencies is important – and if you haven't played before, get a coach. There are plenty of freelance senior PR advisors who are familiar with the agency landscape and can help you find the right agency to fit you.
This is a crucial first step; working with a small, boutique agency can be very different from working with a vast multinational, full-service agency, and there are pros and cons for each. Similarly, marketing is a vast, sprawling discipline these days, so you may not be sure whether you need a 'traditional' (i.e. media relations) PR agency, an SEO agency or an influencer relations agency – but when you only have the budget for one of them, the temptation is to invite all three to pitch.
This 'mixed doubles' approach towards selecting an agency isn't necessarily a mistake, but it's something you should walk into with your eyes open. Different agency types have very different styles of responding to a brief, so you should be firm in specifying how you want them to respond if you're to avoid comparing apples with oranges and giving yourself a huge headache.
It's all in the opening serve…
Playing against a ball machine always seems like a bit of a novelty, but after a while you'll find yourself craving a human opponent, however much they may grunt (sorry Helen, but it's true). In the same way, during the first stage of agency selection, do a lot of it in person or over video calls.
Many of our contemporaries have made less flattering comparisons for the initial stages of the pitch process, saying that you wouldn't marry someone after just two dates, and without having met them – and this is totally fair. You'll be working in close proximity with this agency for (hopefully) a number of months and years, so you need to understand that their vision and energy matches yours, that they understand your company and have good experience in the space – and that you think you could work well together. Doing this face-to-face is much easier and more effective than doing it over email.
… and the final smash
The most important thing in securing the right agency partner for you, whether it's in a phone call or during a face-to-face briefing session, is being clear about what you want to get from the relationship. Imagine the final smash that wins the match – or even a post-game review where you're assessing the project in a year's time. What was successful about the campaign? What did the agency achieve? What made your boss crack open the bubbly in celebration? Play this back within the brief and you'll be onto a winner.
However, the other important component is that the resources you provide (i.e. the budget) must match your requirements. I think most people would confess to having champagne taste and a beer budget – but this rarely works professionally! If communications and marketing are vital to your organisation, then the leadership team must provide realistic resources for this – or compromise. You wouldn't expect Rafael Nadal to come onto court with a second-hand racquet, trainers falling apart, having forgotten to train for the last fortnight – he needs the best equipment and training to stay number one.
There you have it – a few more tips on how to get the most from your agency selection process. It's something we've written on quite a lot, so if you want further guidance, please don't hesitate to contact me, or to read some of our previous pieces. It can be a tough process, but by following these steps, you can court the right agency and ace your marketing plan!
It started long ago; declines in readership, subscriptions and ad revenues, inevitably leading to smaller editorial teams and lower page counts. Whilst print and online media isn't 'dead' by any measure, it's certainly had a lot of troubles.
By and large, most publications are still struggling to find ways to maintain quality journalism and keep solvent. Even the Financial Times, with its subscriptions of up to £700 a year, was pretty quiet on profitability figures this year, although it reported 'rising revenue' and firm profits the previous year. We've also seen a few publications get into trouble for not making it explicit that certain links are to advertisers and represent commercial links, rather than purely advisory ones, so it's not an easy path to tread.
Enter Blendle: The app that
tries to do for print publications what Flipboard did for onlines, letting you mix and match articles from different magazines and newspapers. Offering an ever-growing number of magazines and papers to choose from, including Advertising Age and the FT, it lets you browse the first few lines of articles to see what might interest you, then pay a very small amount – generally $0.05 – $0.45 – for full access to individual pieces.
Having suffered through all too many 'e-reader / screen-reader / online print publications' over the years, the Blendle interface is a pleasant surprise. With 'staff picks' on the opening 'featured' page, the magazines at first – worryingly – look like a photo of the print version, but hovering over articles brings up a pleasant re-rendering of the preview which vaguely reminds me of an old Adobe Acrobat document.
The images are still a little fuzzy on a full screen; they're obviously not re-drawn, but the text is very readable. Being in beta, the team seems acutely aware that having a good experience is vital for early users – so you generally get a $2.50 trial credit to play around with the service upon registration.
There are some neat additional features, but at the moment, the main thing holding it back is the spectrum of publications signed up to the service. And whilst I can understand that there's a risk the service might undermine and cut magazine subscriptions, it could also increase readership and revenue because it's so easy (and quick) to use for attention-poor readers (that is to say, all of us). It could also help publications which might have lowered or completely abandoned their paywalls in recent years.
The mobile app is out and it's very polished. I noticed a couple of reviews commenting that they thought the articles were too expensive – and it would definitely be easy to rattle through $10 or so in a week – but if the service is aimed primarily at longreads and analytical from the likes of the FT or the Economist, then this might not be a problem.
My other main worry for the service is more fundamental; there is so much free news and content out there, so many ways of aggregating content competing for so little time. Will people be motivated enough to sign up, use and stay on the service? Only time will tell.
Either way, Blendle is a positive development for journalism and publishing. It's no silver bullet, but every little helps.
Our client Masternaut is known well among fleet and automotive businesses as the UK's largest provider of telematics, but in 2015 wanted to expand its reach to other parts of the business which could benefit from telematics. These business disciplines – such as HR and finance – look for support in areas such as cost control, tax and expense, insurance and duty of care to employees, which is something that comfortably fits into the capabilities of a telematics deployment.
To achieve these goals, broadening media awareness and reaching other decision makers in the business, Firefly created a campaign that not only targeted the fleet industry, but also new markets such as HR and business titles.
Firefly needed a theme that would not only appeal to these broader verticals, but a theme that everyone could relate to and take interest in reading about: driving when tired and the importance of driver safety.

Firefly conducted research polling professional drivers in the UK on the frequency of their breaks on long journeys. With these insights, Firefly crafted content revealing that eighteen per cent of business drivers do not stop for a break when driving for extended periods of time. Some business drivers admitted to taking extreme measures to avoid nodding off when driving, such as singing out loud to the radio.
With compelling data and a tenacious sell in, Firefly achieved outstanding coverage results and developed new journalist relationships in the key verticals. The story saw 81 pieces of coverage between late November and early January, in fleet, HR, business and regional press across the UK.
Firefly's use of media relations and research resulted in a successful campaign that gave Masternaut a foothold in new sectors, resulting in commercial opportunities for Masternaut to pursue. From four research releases and dedicated media sell ins around driver safety in 2015, Firefly achieved over 200 pieces of coverage in five new vertical sectors that Masternaut wanted to expand to, including HR, health and safety, and business. The campaign increased brand awareness to such an extent that a follow-up direct mail campaign gained a 20% higher open rate than previous campaigns and opened the door to new business prospects in new verticals – including new business leads from coverage seen in the media.
As we end up saying time and time again, this year has flown by. Many things have happened, but Christmas is a time to reflect on the positive and exciting moments we shared as a PR agency in 2015, and below we've put together a collection of our top moments for the year and our reactions to them – in GIF form of course!
1. Hijacking drones for April Fools' Day and PR research
Drones were a big topic in technology media this year, and through our newsjacking via consumer research, we achieved over 40 articles for Give as you Live. This contributed to an uplift in organic search – people typing 'Give as you Live' into Google – as well as a better sign-up conversion, based on Google Analytics Goals analysis.
Firefly also claimed to launch a new drone to deliver press releases straight into journalists' hands, but it was all an April Fools' joke, of course!
2. The KIDS charity Firewalk
A few of the Fireflies bravely took part in the KIDS Charity Firewalk at the start of November, walking across 20ft of hot coals and learning that "We are magnificent! We are amazing! We ARE fantastic!"
Oprah's reactions sum up the experience pretty well.
3. Hazel, Christian and Kiran join the Firefly team
While we said goodbye to some, we also said a great big hello to Christian, Hazel and Kiran, who joined as senior account director, senior account manager, and London team administrator respectively. They've all been integral team members so far, and even managed the Firewalk.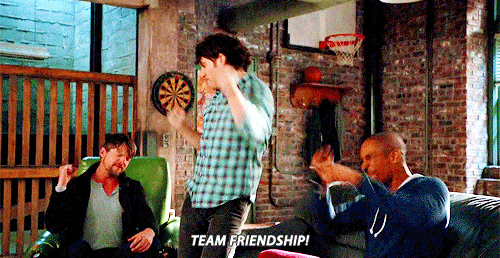 4. Client wins
We were pleased to welcome some new work with a win of four new clients in 2015, including Cornerstone OnDemand, COINS, Softmaker, and Quattro Plant Group.
5. Looking into the Crystal ball
Ever wanted to know the right way to read a journalist or client, but can't pick it just from their picture? We discovered Crystal, a tool that helps people understand and communicate with each other better by drawing a picture of their personality based on their online profiles – and it's pretty accurate too!
2015, you've been swell! We look forward to seeing what 2016 brings our way.
It's hunting season for many agencies – not that we condone blood sports of any kind, just to be clear. It is the period, post summer holiday and pre-New Year, that companies go hunting for new agencies to head their PR roster for the next year.
The hunt is there to cull the weak and find the fastest, fittest PR animal in the isles. Even if you have a great – if not the very best – agency, aren't you concerned that the teeniest bit of complacency has crept in or are you intrigued to see if there is a bigger and better beastie just around the corner?
So, it's time to don the deerstalker and get down to business. But don't underestimate your quarry. Just be wary of some of these classic pitching tactics agencies use to win business. When work starts, make sure you don't end up stepping on a bear trap of your own making…
The PR Pitch and Switch
PR agencies are busy places and sometimes the team you want to work on a project just aren't available to work on the big pitch. Holidays, illness, or – dare I say it – those darned clients, just keeping getting in the way.
In pursuit of success at any cost, watch out for the pitch and switch tactic. The most senior team, or the 'hunters', will arrive to present the 'all-singing, all dancing' killer pitch. You are wowed. Within weeks (or even days), the composition of the team changes to (how shall we say?) the less dazzling players.
What should you do? If you like certain people, or feel you will gel better with certain people, make sure you make a point of having them named in the contract. If team members do switch, get on board with the interview or selection procedure for a replacement. Make sure the agency picks up the cost for any changes to personnel!
Bewitched and (ultimately) bewildered
A new agency comes in and waves a magic wand. They promise they will turn grit to gold and craft press releases of polished prose. All will be well with your PR world.
Take a reality check – this is not Disneyland. Ensure from the off that the promises are realistic and tied to specific KPIs. A Statement of Work will tie an agency down to a specific list of objectives, targets and evaluation. It is up to the agency to deliver the value, impact and results they have promised.
But as the client you need to fulfil your part of the bargain too. Like a Faustian pact, it can't all be one way. Make sure you fulfil your side of the bargain too, providing quick turnarounds, rapid response, and spokespeople when needed.
Apples and pears
How to compare one agency with another? Similar-looking agencies can propose very different approaches. You will probably err towards the people and personalities, rather than the ideas. They can be changed, unlike somebody's persona. However, there are some very simple benchmarks that you can apply:
What is the hourly rate of each management level within the agency?
On how many clients does each person work?
Are you a little client in a sea of large ones?
Will you get headspace?
Does the team want to work on your business? (go on, ask them).
Useful alternatives to the PR pitch
We've been pitching for so long we've forgotten why we're doing it this way. It must have seemed a good idea to somebody at some point. But pause a little and consider the alternatives.
How about interviewing the team members, individually, to check the intelligence, skills, experience, contacts and motivation of each member – top to bottom. Following this, bring the team together and set a little challenge, observe them and see how they work together.
This tactic is fundamental to obtaining a clearer picture of the team chemistry and personality. It demonstrates what brings them together and, crucially, what drives them apart. Sure, they'll be on their best behaviour, but it's far more informative to hear, see and maybe even feel the team dynamics. You could join the challenge too and see how they cope with that. No pressure!
Research your agency before you meet. Five agencies is a maximum long list, which should enable you to invite two to three back at the next stage (presentations, interviews, whatever you have devised…). Anymore than this is superfluous unless you have plenty of time on your hands, and who has?
Save yourself hours in pitch meetings by restricting the amount of information you receive (5-10 pages max) and the time you have together (45 – 60 mins). That way, everyone is focused.
It's harder for an agency to impress in five pages, than waffle on for 50 with a whole load of irrelevant, generic slides or 'ologies of information. If the agency has been in business for a while, it is a given that they know how to do PR.
Give them a very specific challenge to address, perhaps a particular announcement or typical scenario, or a few examples and see how they approach it. Be selective in what you need to know. You'll quickly learn who impresses you.
Most business happens over the phone or email, so why not use the same format as part of the selection process? It's more realistic than a formal presentation. If the account exec doesn't impress you on the phone, how will they impress any influencers on your behalf? It's the execs who do the sell-ins, after all.
Or perhaps, conduct a brainstorming exercise or pull together a real-time campaign, with the agency in the room. Observe how they work together, or perhaps work with them. How creative is the thinking? How thoroughly do they plan? How results focused are they?
A Pitch in a Day (PIAD) certainly isn't necessarily very representative of real working life. But we do have to think fast, we do have to work together on challenging briefs, and ultimately we do have to deliver impressive results. This method will expose any cracks in the team, and test the management and leadership skills of the agency directors.
At the end of the day, it is all about competency, cost and that good old magic ingredient – chemistry – that will give you the real feel of the agency that is just the right fit for you.
"We are magnificent! We are amazing! We ARE fantastic!" (strikes Peter Pan pose and puffs out chest.)
Yes, we did it again!  This year we made sure our bonfire night went with a bang with a firewalk for the KIDS charity, which provides more than 140 services to disabled children, young people and their families.
It wasn't the first time Firefly Communications had undertaken the firewalk challenge. The event, organised by the aptly named Blaze, took us through our paces with a series of motivational talks to get us in a positive frame of mind.
Hence striking the Peter Pan pose. Try it. Leg's akimbo, hands on hip, heads up, chest out. Try telling yourself how fantastic you are today. Preferably not in a room full of strangers or on a crowded Tube.
It was Claire's fault. Walker by name, walker by nature. She's done it before but long enough to forget what it was like. But it was, she assured us, a cake walk – a mere 20ft of red hot embers 'smouldering' at 1,236 degrees Centigrade (human flesh burns at 300 degrees, Blaze reliably informed us).
So, with some trepidation and corn plasters at the ready, the Firefly team lined up to strut their stuff. We'd done it once and lived (well, one of us anyway), so why not do it again?
The motivational stress buster removed all tension – even though it was called 'Learn or Burn'. We meditated, motivated and Elvis'd together. Yes, in a room full of strangers. That took almost more guts than the firewalking.
And then we were off, barefoot into the flames.
We counted them all in and counted them all out again. Unscathed, un-smouldered, un-corn-plastered, we hot-footed to the pub for a celebratory drink.
Well done to the team for helping to raise a whopping £3,514 for KIDS. This money alone can go a huge way to helping disabled children's lives more fulfilling.
The money is still rolling in for the Firefly team. Sponsor us here.
So what's next for Firefly? Diving with sharks? Skydiving? Bungee jumping from a crane? Challenge us here. We're always up for a laugh….
Who'd be a Pizza Express waiter(ess) when the company steals your tips? It is like taking your hard earned dough (doh! – ed) away from you. Surprisingly, stories like this don't impress, especially when the pizza chain in question reportedly made £100m profit this year.
Skimming off the top off the tip jar may add up to a matter of pennies for a company, but is vitally important for low-paid workers who are on the breadline (pizza-line – ed).
And once a company has a bad rep, getting rid of it can take years.
Potential new hires read the papers too, and they have plenty of choice as to where to go and work.
A survey by professional contacts company LinkedIn showed that just over half (53%) of all employees would turn down a pay rise or promotion offer from a rival company if it had a bad reputation as an employer.
Life (and work), just isn't worth the extra hassle. In an article for HR Magazine, LinkedIn director of UK talent solutions Chris Brown says employer reputation impacts on profitability. "In addition to simply attracting better employees, a strong employer brand helps retention and engagement, so the true value is even greater than this data suggests," he says.
How to integrate employer branding into the PR programme
Manage the employer review sites
Sites like Glassdoor and theJobcrowd.com allows workers to rate their current and past employers. These sites allow users to rate their workplace, share salary reports, rate the CEO and more. Just consider the difference that TripAdvisor has made on hotels and restaurants and you can imagine the effect that these sites could have on your company's reputation.
On the internal communications side, there is a job to ensure high satisfaction levels of the workforce as well as respecting candidates during the recruiting process. Externally, you need to consider:
How you profile your CEO, is it true to reality? You'll soon be found out if it's not
Do the brand values you promote internally match what's being truly practiced? Watch out for a disconnect
The PR and marketing teams should also be managing the company profile on sites like these. Glassdoor, for example, allows employers to monitor for issues such as bullying or defamation, engage reviewers and have their say about the workplace, with a description and photos.
Facebook is your virtual pub
Despite Facebook's best efforts to engage businesses with initiatives like Business at Work, nothing has yet flown as for many as it's a personal social network. However, Facebook is a great platform to showcase the social nature of employees as well as rally together alumni.
Our recommendation is to:
Show your employees' personalities on the Facebook page – put up pictures of social outings and share the latest cat photos/articles/videos that have made you and your colleagues laugh. Just be sure to have some rules and be true to the type of company you are
Allow your alumni to thrive in the group – post photos/updates which instil a sense of nostalgia. Your alumni are a valuable asset to your reputation, if you've parted ways amicably
Tweet to woo (your future workforce)
At its most basic, companies need to pepper in tweets that will resonate with the people you'd like to attract to your workforce. The type of content will be similar to the Facebook style content mentioned above – showing off the company's personality through its people.
Another important tactic is to build lists (anonymously) of people you'd like to attract to the organisation – an activity to collaborate with HR on. It gives you one place to go to ensure you're engaging with the right talent, as well as a target group of people for promotional tweets around job vacancies.
Don't limit yourself to profiling your execs
Of course it's important to be profiling senior management who are the public face of your company. That said, we are curious creatures and many magazines and websites like to profile people with unusual job roles. Do you have any people doing unusual work within your organisation? With some media training and carefully targeted opportunity pitching, you can boost your company's reputation through its people.
These are just a few of the tactics you can incorporate into your PR programmes in order to boost your employer branding. With the plethora of social sites making the inner working of your company more and more transparent, it will become increasing important for marketing and HR to collaborate and build the brand from within, leaving no stone unturned.
You've got a great PR campaign idea and it's very tempting to jump straight into the execution phase – the exciting bit. But, be careful.  Failing to allow time for detailed PR planning may be costly in the long run. This is a conundrum for lots of our clients, and even agencies – do you put aside enough time (and budget!) for planning before PR execution kicks off? Or do you want to see all of your budget and resources go directly into activities meant to generate results?
I've always been particularly keen to push through the importance of planning. I've jumped up at many a white board and flip chart to create the 'planning vs. activity' conundrum for numerous colleagues and clients over the years, in order to emphasise why planning is key is any PR strategy
This is a crude test, but in principle, what is the best approach – A, B or C?
A is tempting with a bit of thinking and lots of doing! It's easy to feel like you're achieving something when lots is 'getting done', but are you absolutely sure you're doing the right things? This is classically when the plan says something vague and the team take off in their own directions.
B is balanced – equal thinking and doing. But the plan and the team efforts may not work together and may even conflict. There's not enough pull back to the plan and goals, analyse best actions or a focus on what absolutely needs to be achieved.
The right answer is C. You should spend more time thinking and planning than doing. If you only do what you absolutely know will be successful, then you are guaranteed to achieve your goal (without wasting precious resources) – and you'll spend less time doing all those irrelevant things. You might even get to go home on time!
A basic PR plan structure should include these key components:
Executive summary
Situational analysis
Assumptions, problems and consequences
PR/Campaign goal
Audience and messages
Objectives
Strategy
Tactics & deliverables
Schedule
Critical success factors
Budget
Evaluation
Reporting and administration
Team & responsibilities
The last word of caution. Too often we pile into writing a PR plan without any clarity and insight on the above basic points. Push and question to get clarity and leave no stone unturned when looking to understand the communication playing field. We have a thorough approach to exploring the wealth of information out there on you, your industry and your competitors. To read more about this, go to our Exhaustive insights = informed PR page.
Issues hijacking is a crucial tool in any PR's toolbox, and it's something that the Firefly team utilised recently to ensure great cut through and an opportunistic sell in.
Our client Masternaut, a leading provider of fleet telematics, this month launched its real world fuel economy database, providing 100% accurate figures based on actual driving. Typically, car manufacturers determine their miles per gallon (MPG) values based on a series of tests, covering just 6.8 miles of driving.
By jumping on the back of news about the VW emissions scandal, Firefly brought the issue of fuel economy into the debate around providing accurate emissions figures, whilst also weaving in important messaging about the absolute accuracy of Masternaut's technology.
In total, Firefly secured over 15 pieces of coverage on Masternaut's new fuel economy database, with 13 of those in tier one publications and just over half featuring Masternaut in the headline. Each article contained key messaging and quoted Masternaut's spokesperson, Steve Towe.
This helped to maintain Masternaut's position as the leading European telematics provider, in terms of media share of voice. In September 2015, Masternaut had 58% European share of voice, more than all its key European competitors combined.
We are deeply shocked and saddened at the sudden loss of Clea Herrmann, Firefly's Country Manager in Munich. Clea leaves behind her husband, Hubert and their son, Raphael (4).
Clea served Firefly for almost 15 years. She started her Firefly career in London in 1998, before moving to Germany in 2001 to set up the Munich office. She has just celebrated ten years of successful trading out of Munich for Firefly.
Clea was a warm, energetic, nurturing and immensely fun colleague. She was also an exceptional PR operator who has done much for Firefly.  She will be hugely missed.
For those who would like more information or to leave comments, please visit www.fireflycomms.com/clea-herrmann
CLEA MARIA HERRMANN
2nd October 1968 – 15th February 2012
Clea Herrmann, Firefly Deutschland Country Manager, im Alter von 43 Jahren verstorben
Wir sind tief getroffen und erschüttert über den Verlust von Clea Herrmann, der Country Managerin des Deutschen Büros in München. Clea hinterlässt ihren Ehemann Hubert und ihren 4-jährigen Sohn Raphael.
 Fast 15 Jahre arbeitete sie für Firefly. Bereits 1986 begann Clea bei Firefly Communications im Londoner Headquarter und kam 2001 nach Deutschland, um das Münchener Büro aufzubauen. Im letzten Jahr feierte Firefly München sein 10-jähriges Bestehen. Diesen Erfolg verdanken wir vor allem Cleas Professionalität, Dynamik und Ausdauer.
 Cleas warmherziges, dynamisches und humorvolles Wesen wird uns sehr fehlen. Sie war eine außergewöhnliche Beraterin, die maßgeblich zum Erfolg von Firefly beigetragen hat. Wir werden sie unglaublich vermissen.
 Für mehr Informationen und um Beleidsbekundungen zu hinterlassen besuchen Sie bitte
www.fireflycomms.com/clea-herrmann
CLEA MARIA HERRMANN
2.Oktober 1968 – 15. Februar 2012
Is it time to shape your reputation?
We operate in London, Paris and Munich, and have a network of like-minded partners across the globe.
Get in touch
Sign up to Spark, our newsletter
Receive thought pieces from our leadership team, views on the news, tool of the month and light relief for comms folk
You can unsubscribe at any time, please read our privacy policy for more information