Europe is a fascinating place. Its history, cultural diversity and impact on the globe make it truly unique. And although it has gone through many challenges in recent decades, including some questionable decisions and a surprising election or two, Europe still remains a great place to do business.
It is also a pivotal market for many companies' global success and for anyone looking to establish a good base for doing business throughout the region it is critical to establish a strong reputation. To achieve this, a comprehensive PR strategy is crucial. However, Europe is comprised of over 40 countries and 23 languages, and subsequently requires a lot of nuanced thought, particularly as it relates to measuring success.
When compared to other markets, such as the US, there are several key things to bear in mind when assessing how impactful your PR efforts in Europe have been, most important of which is to look beyond the numbers.
Although in simple terms it may seem that the larger the audience and reach of your content, the better, this is not always the case. It's true you should always look to maximise the impact of your content, but there are a few important aspects to consider when measuring success. Firstly, if you are used to numbers that can be generated in a market such as the US, numbers in Europe can seem underwhelming. Ensure that you are aware of the size of the markets you are dealing with – the population of the Netherlands for example is smaller than that of New York State.
However, also think carefully about comparisons between countries within Europe. Due to the variety within the region, there can be vast differences in reach between countries – you shouldn't be disheartened if your figures from outreach in the Vatican City aren't quite on the same level as those in Germany, for example.
Be sure you are putting things in context. Instead of counting pieces and their impressions, develop a scoring system in line with your business goals that focuses more on the quality of your content and its specific impact. Measurements like type, tier, message penetration could be a much better indicator of success compared to straight numbers. Part of this is looking at target audiences in those markets you are focusing on and assessing what opportunities they can provide. For example, a readership of a few thousand people in Sweden, may seem like a tiny number, however if these are business or industry leaders with a very specific interest in your sector, that number all of a sudden looks very appealing. However, beyond that think of what it is you are trying to achieve and perhaps target a specific country for a specific industry or goal – for example, manufacturing in Germany, or financial services in the UK.
Additionally, look into measuring a reusability score. We are all having to look after the pennies these days, and as a result anything that can be done to get the most value out of your work should be pursued. If money spent on a single effort can act as your Swiss army knife, generating press releases, media alerts, commentary, thought leadership and beyond, this can be a great indicator of the overall impact that your strategy is having.
Different markets. Different appetites
Media appetites vary hugely throughout the region – in the same way that fish and chips is not a delicacy in France, nor frogs' legs in Germany, the media is also hungry for different things. It is crucial to have a good understanding of the cultural differences between countries. For example, in a situation where you have a press release to send out that will be localised in a few key languages and distributed throughout Europe, it could be tempting to directly compare results between countries. However, it is highly likely you will see significant differences in the coverage numbers between these countries, even adjusted for population. For example, media in France and Germany have a big appetite for press releases, whereas the UK media is not so keen, and this will have a big impact on results. Other examples include the French and German media's preference for local spokespeople and brands, meaning you will most likely see increased competition in those markets and coverage numbers could be lower if you do not have a local flavour.
Clearly, measuring success is a crucial aspect of any effort, especially when dealing with limited time and budget. If you are keen to kick off a PR campaign in Europe, be sure to avoid a one-size-fits-all approach and avoid comparing between countries.
For a small continent, Europe is full of a wide variety of different attitudes, tastes and quirks. To understand them all is an almost impossible task, however a little effort can go a long way. By ensuring that you take the time to understand key differences in media attitudes, specific areas of expertise and potential reach you can maximise your ability to measure success.
On Wednesday 21st October at 4pm BST, Firefly's Europe experts are hosting a free webinar that will cover everything you need to know about how to ensure success in multi-country PR and comms campaigns.
As a taster, here are a handful of the key challenges that must be considered when running campaigns across Europe. The solutions to these challenges will be covered on the webinar.
Every country is different
It's understandable if communications professionals that have primarily operated in one country fall into the trap of thinking that the communications landscape operates in a similar way in different countries. Most of the time, that's not the case. They may be close on a map, but there can be major differences when running campaigns across borders.
This graph shows exactly that. It reveals the variation in media attitudes across a range of different criteria in France, Germany and the UK.
Not all tactics work the same
There will be times when a tactic and content can be used with minimal localisation for multiple countries. However, on most occasions this won't be the case. There are a wide variety of hoops that you may need to jump through to make a plan or content suitable for multiple countries.
The important point to note at this stage is that a strategy/tactic/piece of content can't simply be duplicated and expected to perform highly in different countries. Accept early on that certain activities will do well in some countries and not perform as highly in others.
Resources spread too thin
Now, as the points above emphasise, taking a one-size-fits-all approach to comms across Europe won't work. Neither will spreading resources too thinly. Trying to stretch a pre-determined, non-flexible budget to cover as many countries as possible is a common error.
It rarely works out and often leads to starting again 6-18 months down the line. During this time, competitors may have further established themselves.
Fortunately, there are many different financing options that are more sustainable than spreading a budget too thin.
Coordination can be painful
Even if the differences between countries is understood, tactics have been localised, and budget is assigned effectively, there's still the challenge of getting every country to sing from the same hymn sheet. It can be challenging.
Each country can interpret instructions differently, will have different questions, and will have to adapt to apply instructions/requests to their country. As a result, managing different countries can be time intensive. There's also the possibility of teams going off in different directions, failing to align on strategy, tactics, and desired outcomes.
So, that's the taster. A carefully chosen selection of the many common problems you need to know about – or may even have experienced first-hand. To get solutions to the above challenges in Firefly's full rundown of PR and comms in Europe and how to ensure success in multi-country campaigns, register to attend the webinar on 21st October 2020 for free here: https://fireflycomms.com/en/pr-in-europe-webinar/.
Europe. It's only one continent. It can't be that hard to implement PR campaigns across, right?
You'd be surprised how often that attitude is taken when businesses expand their operations into Europe. The reality is that it's considerably more complex than many firms anticipate.
There are 51 countries, speaking 24 official languages (and more than 100 unofficial ones). Cultures vary wildly too; France is the country closest to the UK in proximity, yet the two countries are vastly different – there are different languages, different attitudes, different traditions, and different cultural references. Now, consider that every country will vary in at least one of these ways to all other countries in Europe and you can quickly see the challenge for cross-Europe PR.
With this in mind, here are my top three (and a half) tips for getting your PR across Europe right first time:
Don't bundle – think bigger
Bundling is a common, but usually ill-advised, approach to PR when entering or expanding in Europe. Primarily, this relates to budget – companies will create a budget that is shared among multiple countries. Having one pot quickly proves inefficient, since different countries have different requirements for the budget, so spend – and results – can be disproportionate. Instead, establish clear, separate budgets for each country and tailor those budgets to the needs of each country.
Regions are often bundled too. The Nordics, for example, is five separate countries, with five languages, and five media landscapes. Allocating the same budget for the Nordics as you would for France or Germany is a disaster waiting to happen. Instead, break down the region into individual countries and target the individual audience and media.
To bypass budget limitations, companies sometimes take the switch on and switch off approach. Here, a chunk of budget is invested in a country for a specific period, such as three months, to "make a splash" or "boost presence", and then switched off in that country and switched on in another. It means multiple countries can secure coverage, but long-term has minimal effect on brand awareness or reputation. You're better to establish the company in two key countries, than spread resources too thin and have a fleeting presence in four switch on, switch off countries.
Another common faux pas is bundling results. Success is different in every country – six pieces of coverage per quarter in Belgium may not compare in numbers to Italy's 20, but given Belgium's smaller media landscape, the fierce commitment to local stories only, and the focus on quality over quantity, the six hits in Belgium may be equally as impressive as Italy's haul. It's important not to play countries off against each other; set KPIs for each country and avoid the temptation to compare.
Get to grips with the media and social media landscape(s)
This is often one of the most challenging aspects of communications in Europe to get to grips with. No two countries' media landscapes are the same. A tactic that may secure outstanding results in one country, may not be picked up in another.
In many cases, the expectation is that content simply needs translating into local languages and can be pushed out. The reality is that there must be "localisation", in addition to the translation. Localisation relates to every box you have to tick to make content suitable for a country different to the one it was initially prepared for. This includes a range of considerations, from tone and structure, the communication channel, through to the suitability of the topic that's the focus of the story, to the use of local spokespeople, and even the time content is distributed across time zones.
Learning about, understanding, and remembering all the local preferences and practices for each country being targeted can be a huge challenge at the start. You'll benefit from consultancy from your chosen PR agency that educates you on the local media and social media landscape. Over time, you'll build the level of understanding required to develop strategies for stories that satisfy your audience in the various countries you're targeting.
Align expectations with level of investment
Given the different budget requirements and media landscapes across regions, expectations of what a PR campaign will look like and what it will deliver can sometimes be skewed. It's important to know what success looks like before you start. A good PR agency will be upfront about a disparity between expectation in a brief and the reality of what can be delivered. They'll also explain why – and there are a number of different reasons why that disparity exists, many of which go beyond budget restrictions.
Local spokespeople, either based in the country you're targeting or who speak the local language, play a pivotal role in developing a company's profile among media and their audience. For example, when pitching a big news story in France or Germany, a journalist may request an interview to gather more information for their write-up of the news – if there isn't a French or German speaker available, the interview request may be rescinded, and the opportunity could evaporate. In this scenario, 'investment' is in the availability of employees, not the monetary cost of PR activities.
If local spokespeople are available, the next hurdle to overcome is engaging them. The best campaigns are usually those where the spokespeople provide local insights and expertise. Again, this isn't about budget, it's about employees making the time to support on PR efforts.
3.5. Find the right partners
It's obvious, really, isn't it – hence why it's a half tip, not a full tip – but working with the right agency or agencies is critical. The 'right' agency is, of course, subjective and will look different to every company. The best way to find the one that suits your need requires due diligence to find a pool of quality options and a clear brief that sets out the objective(s) for each country, otherwise it's easy to partner with the wrong one, and then you'll be no further forward a year after the activity kicks off.
Aside from better results, working with an agency with a network of carefully selected teams across Europe will deliver cost and resource gains. Activities will be streamlined, enabling the network to focus more time on those that deliver results, as well as being easier for in-house teams to manage.
Hopefully these tips have revealed the types of factors that must be considered when embarking on a pan-Europe PR campaign. We'll be exploring these factors, and more, in greater depth in a free webinar in April 2020. If you'd like more information on this, email us to let us know.
In the meantime, if you'd like to see how a multi-country European PR campaign plays out in practice, check out this case study about boosting awareness of PathMotion in the UK and France. Alternatively, if you have any questions on pan-European PR, don't hesitate to get in touch via tim.williams@fireflycomms.com.
As we end up saying time and time again, this year has flown by. Many things have happened, but Christmas is a time to reflect on the positive and exciting moments we shared as a PR agency in 2015, and below we've put together a collection of our top moments for the year and our reactions to them – in GIF form of course!
1. Hijacking drones for April Fools' Day and PR research
Drones were a big topic in technology media this year, and through our newsjacking via consumer research, we achieved over 40 articles for Give as you Live. This contributed to an uplift in organic search – people typing 'Give as you Live' into Google – as well as a better sign-up conversion, based on Google Analytics Goals analysis.
Firefly also claimed to launch a new drone to deliver press releases straight into journalists' hands, but it was all an April Fools' joke, of course!
2. The KIDS charity Firewalk
A few of the Fireflies bravely took part in the KIDS Charity Firewalk at the start of November, walking across 20ft of hot coals and learning that "We are magnificent! We are amazing! We ARE fantastic!"
Oprah's reactions sum up the experience pretty well.
3. Hazel, Christian and Kiran join the Firefly team
While we said goodbye to some, we also said a great big hello to Christian, Hazel and Kiran, who joined as senior account director, senior account manager, and London team administrator respectively. They've all been integral team members so far, and even managed the Firewalk.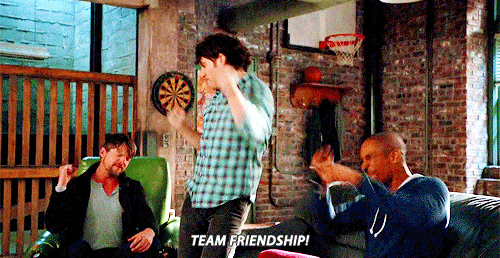 4. Client wins
We were pleased to welcome some new work with a win of four new clients in 2015, including Cornerstone OnDemand, COINS, Softmaker, and Quattro Plant Group.
5. Looking into the Crystal ball
Ever wanted to know the right way to read a journalist or client, but can't pick it just from their picture? We discovered Crystal, a tool that helps people understand and communicate with each other better by drawing a picture of their personality based on their online profiles – and it's pretty accurate too!
2015, you've been swell! We look forward to seeing what 2016 brings our way.
Christian's remit will be to support Firefly's ongoing mission to bring greater clarity to how campaigns are run, whilst also exploiting evolving channels and tactics to help client organisations achieve their communications objectives. He joins from Threepipe where he led the B2B team, running a combination of PR, social and content-led campaigns for brands such as Oracle Primavera, MindLink and the Chartered Institute of Management Accountants.
Christian brings a range of experience to Firefly, from enterprise brands Motorola, BMC Software, Rackspace and Computacenter, to start-ups uMotif, WeSwap and pro-bono work with IDEALondon, Cisco, DC Thomson and UCL's start-up incubator.
Firefly Group CEO Claire Walker says, "Our clients are under pressure to deliver impactful communications activity across a range of channels, without re-inventing the wheel. Christian's work across organic and paid online channels – as well as a solid heritage in PR and media relations – will bring a great deal to our offering."
Prior to Threepipe, Christian worked at agencies including Spark, Waggener Edstrom and The Octopus Group on a range of campaigns including launching Rackspace's OpenStack cloud in the UK in conjunction with NASA, opening the UK's first eSports arena with Gfinity, and running an award-winning campaign with AdaptiveMobile examining Wi-Fi filtering in public spaces.
We were delighted to announce last week, that Vimeo will become Firefly Communications' latest consumer client, as we expand our consumer practice.
Firefly will be utilising its pan-European network to service the account – with the hub operating from London, and the network running across Firefly France, Firefly Germany and our sister agency in Spain.
The story was covered by several industry publications, including The Drum and Gorkana; we replicate the Gorkana story here:
Published: Tuesday, 13 March 2012, 11:42am 
Vimeo win for Firefly
Vimeo has brought in Firefly to handle its European PR
Firefly Communications has been brought in by video sharing website Vimeo to handle its European PR following a five-way pitch.
The agency has been briefed to build consumer awareness of the brand via tech, lifestyle and consumer titles. It will also continue to communicate with the brand's heartland creative audience.
The team will also build on the momentum from Mobile World Congress 2012, helping Vimeo to be recognised by other potential brand partners and localise its global reach to different markets.
The account will be led by Fiona Hughes, head of consumer Europe at Firefly in London, with support from European agencies in Paris, Munich and Madrid.
The team will report to Vimeo's marketing comms director, Deborah Szajngarten, and European PR lead, Nikki Thompson.
Deborah said: "Vimeo is a global site that continues to experience tremendous year-over-year growth. We sought out a European agency-partner that could truly aid us in our international communications expansion.
"We needed someone that understood Vimeo's unique culture and could easily assist us in properly localising our global messages. We chose Firefly as our European PR partner because they have a clear understanding of the variety of cultures and countries that make Europe such an interesting and challenging market."
Fiona said: "This pan-European win puts Firefly's new consumer practice firmly on the map. Vimeo is high performing, ambitious, creative and passionate, meaning it has all the ingredients for a brand we're all very excited to be working with.
"Our work for Vimeo will take us right into the heart of what we do best at Firefly Consumer – community engagement and media conversation on and offline."
Firefly has just been appointed the pan-European PR agency of record for telematics innovators, Masternaut, which will see the agency deliver strategic PR programmes for the client in four principle European countries: the UK, France, Germany and Sweden as well as southern and eastern Europe.
The combination of Masternaut and Cybit this spring created Europe's only pan-European telematics provider. Since this announcement – which was also spearheaded by Firefly across Europe – the companies have been rapidly integrating resources, technologies and cultures in order to go-to-market with an unbeatable business proposition for customers in vehicle tracking, fleet management, transport and logistics. The company has also been developing exciting new products that will be launched over the second half of 2011.
Prior to the transaction, Cybit was one of the fastest-growing private technology firms in Europe. In 2010, Cybit was ranked 13th in the Sunday Times International Fast Track, having achieved more than 150% growth in sales during 2007-2010. Cybit and Masternaut are now merged into one new business called Masternaut and headquartered in Huntingdon, with more than 500 employees and 10,000 customers across Europe.
For the ongoing PR brief, Firefly was selected to replace a network of local agencies and position the new Masternaut as an industry consolidator and expert commentator on telematics as well as wider business issues including compliance, risk management and sustainability.
According to Masternaut Group CEO, Bill Henry: "Following the largest integration in the telematics industry, our combined business has already achieved early success in the first 100 days.  A strategic PR partner is essential towards that journey, and we believe that PR partner is Firefly."
Is it time to shape your reputation?
We operate in London, Paris and Munich, and have a network of like-minded partners across the globe.
Get in touch
Sign up to Spark, our newsletter
Receive thought pieces from our leadership team, views on the news, tool of the month and light relief for comms folk
You can unsubscribe at any time, please read our privacy policy for more information