At this point, we've all heard of burnout. Some of us have probably experienced it in some form or another – especially as most of us are putting in an extra two hours on average each day while working from home. Recently, a handful of employees from Goldman Sachs came forward to reveal that they were working a shocking 90-hour week. Even if that's over six days, that's 15 hours a day!
Disgruntled employees have the power to damage a company's reputation in a matter of minutes. It doesn't need to be a huge scandal, but an organisation's reputation is dictated by everything that is said about them, externally and internally. In the case of Goldman Sachs, employees have been sent "sympathy hampers" but one employee felt that the company "should be doing more to recognise the gruelling demands placed on the lowest-ranking staff". A hamper may not be enough to rectify these wrongs, but what can be done? The employees at Goldman Sachs seemingly had no other option than to take this internal issue external. In this case, a lot will need to be done to fix it, but issues like this can be prevented with the right analysis and proactive steps.
Internal communication is a key part of enabling employees to perform their job well. Strong internal communication can help foster company culture, build engagement, and help employees to feel both physically and emotionally safe. But before diving into fixing a company's internal issues, you must understand the current sentiment of your workforce.
The only real way to understand is to talk to the people it directly concerns – the employees. In the case of Goldman Sachs, it's unlikely that the employees are choosing to work long hours, it's more likely that this is a cultural expectation. In this case, there were probably tell-tale signs of this, but these cultural expectations can unknowingly pop-up. A lot of change has happened in this past year, employees have formed new habits, new ways of working and new ways of adapting to something that was once so foreign, and naturally, what felt like short term changes have majorly impacted the workplace culture. The challenge now is to conduct an entire culture audit to assess where you are.
On top of evaluating company values, it's important to look at the vision and mission to understand how much that resonates with the people. Through feedback and focus groups, it's easier to see what behaviours are being rewarded. Then, diagnose issues such as overdemanding cultural expectations and tackle those bigger issues head on. It's likely a lot of issues derive directly from employees feeling a disconnect, For Goldman Sachs, employees saying hampers are not enough to rectify the wrongs indicates that they want to be heard. But for people to speak up, you must create an environment of psychological safety, and introduce multiple ways to have those conversations.
Another practice to introduce is a 'stop, start, continue' feedback process. This allows employees to discuss what works for them, what doesn't, and what new additions or methods would be helpful for them. With this, it's much easier to diagnose issues and find solutions at the same time – two birds, one stone!
Cultivate clear conversations
Once the issues are understood, it's time to think about communication. Before deciding what to say, think about who is saying it. Should the announcement come from a team leader or is it more suited to a person in the leadership team? People will take these interactions in different ways and tailoring internal spokespeople for specific types of communication will help a lot.
On the flip side, it's important to be aware of how easy and comfortable it is for employees to communicate back. For some people, in-person is better or over the phone but for others, they find it much easier to express themselves in writing. It's really important to give the option of anonymity to employees too – people will speak more honestly and will feel safer. Try having a real-time FAQ and feedback platforms so employees can raise issues in the moment. By sitting on problems, we either forget about them or let them fester into something much bigger than they were at the time.
Internal communication isn't just about responding to issues or communicating on major company announcements. It's a way to keep the workforce connected, engaged, and excited – you want those two-way conversations to guarantee every employee is psychologically safe. Here are four top tips for better internal communication on an ongoing basis:
Share all news internally: External sharing of news is so important – it's the crux of what we do as comms professionals. But internal sharing of news is just as important. And the announcements don't need to be big, just keep everyone in the loop.
Take time to celebrate the little wins: We often focus on the big wins but to really ensure there is a healthy internal communication relationship at the organisation, take time to focus on the little wins. This could be something as simple as having a section in the weekly newsletter to appreciate the work of someone that week.
Make feedback your best friend: Feedback is everything. If you're struggling to get feedback from employees, maybe try to introduce a new survey tool or incentivise the feedback process. You need to know what to fix before you go to fix it. But remember to mix things up and keep it fresh.
Make employees the main focus: Everything you do should always put the people first. Having a workspace where employees feel both physically and emotionally safe is the goal. Engaged and happy employees equal a healthy internal culture!
If you need any help with ensuring your internal communications is top notch, have a look at some of the services we offer or get in touch with us at hello@fireflycomms.com.
One of tech's hottest stories this month was Deliveroo's IPO. From the outset, Deliveroo should have been a runaway success on London's stock market, given its healthy growth and backing from tech giants like Amazon. Instead, it set the record as London's worst IPO in its history – not quite the success it expected. Pricing, timing, uncertain business prospects and its gig economy workforce were cited as the reasons for its flop, with the treatment of its workforce being of a particular concern among investors.
Whether it was simply the wrong timing for Deliveroo to go public, given the UK's emergence out of lockdown, or that the numbers weren't quite right to start with, there seems to be a shift in the way in which investors and fund managers are thinking about which companies to invest in. And a huge part of that shift involves reputation.
What makes a successful IPO?
In the past, we've seen some of the fastest-growing tech start-ups have huge success on the stock market, and the repercussions have had a positive impact on their reputation too – dating app Bumble made its stock debut on Wall Street in February this year, making its founder, Whitney Wolfe Herd, the world's youngest billionaire at age 31. Airbnb also went ahead with its IPO in December 2020, despite travel restrictions halting huge parts of its business, and the company still managed to see success, passing the market cap of travel giants Booking and Expedia and making it the 10th best debut in 2020 based on price gain from its IPO.
But what truly makes an IPO successful?
According to a report from PwC in 2019, elements that are likely to make IPOs more successful include the likes of: a large, growing addressable market, a unique and differentiated business model, and an attractive product or service, among others. All of which relate to business growth and appeal to the market, and all of which Deliveroo seemed to tick off from the outset. But investors are also beginning to factor in other elements, particularly those associated with reputation and ethics, when deciding to invest in companies. Larry Fink famously highlighted in his 2021 letter to CEOs that issues such as climate change and purpose are pivotal to creating durable value, and companies that pose a climate risk are also an investment risk. For Deliveroo, concerns over workers' rights due to its gig economy-led workforce was a risk that investors weren't willing to take, given the ethical and legal issues involved.
Gig economy – a blessing and a curse?
On the surface, the gig economy sounds like an appealing concept, to employees at least – workers are self-employed and often given the freedom to choose when and where they can work. It means they can potentially dip their toes into several industries if they want to and work in shifts which can be better for work life balance. It's the ultimate flexible working scheme in modern employment, albeit with downsides, mainly that there is no fixed salary and other benefits that employees experience such as holiday or sick pay. This business model is coming under intense scrutiny by regulators, watchdogs and the judiciary. The Supreme Court recently ruled Uber drivers are workers rather than self-employed following a long-running legal battle, causing the share price to dip due to the impact the ruling could have on the viability of the firm's business model.
And it's not just the gig economy that has shed light on the treatment of workers and its effect on reputation. Throughout the pandemic, we saw many companies being called out for their poor treatment of staff when navigating furlough and redundancies, causing their customers to react by boycotting the brand completely. It's no wonder that investors are becoming increasingly concerned over how businesses treat their staff when it could directly affect sales.
The reputational risk of investing
The investment game involves many, huge risks but it seems reputational risk is becoming progressively more common as investors focus on ways to improve their stances on ethics. Fund managers are shifting away from the traditional narrative and no longer want to be associated with companies that contribute to climate change, have the majority of their employees on zero-hour contracts or other ethical, social, and economic issues because of the potential reputational repercussions.
'Ethical fund manager' isn't a term that is widely used yet in the investment industry, but with ethical investments outperforming traditional funds in recent years, it's clear that the industry is moving forward in this way. Investors need to be aware of how a company is dealing with various issues that could potentially damage their business and if they don't know how to deal with certain issues, it then becomes a reputational problem for the business and the investors – especially if it hits the headlines as a potential scandal and directly impacts the overall value of the business. In Deliveroo's case, the gig economy model, while as modern as it is, could become a reputational problem in the future if they get into trouble with their employees.
That said, it could also end up going the opposite way too. Reddit's WallStreetBets subreddit, which famously drove GameStop's share price earlier this year, turned to investing in gorilla conservations more recently, much to the surprise of the big financial institutions. While the subreddit is made up of amateur investors, and therefore on a smaller scale, the move managed to increase awareness of the gorilla conservations, landing multiple stories in mainstream media – a win for awareness and their reputation.
Shaping reputations for future
Deliveroo's IPO flop stemming from issues with its workers and how they are classified is a sign that companies need to take ethical issues just as seriously as other business operations in order to be successful in the market and protect their reputation, whether they decide to IPO or not.
Companies often view reputation as something to be protected during a crisis or major issues outbreak, but the truth is that reputations are being shaped all the time by both positive and negative factors. Forward-thinking companies will monitor and manage their reputations constantly, checking on the views of significant third parties, and putting plans in place to adapt to good news and bad!
In an age where whole TV series' are available to watch instantly and our smartphones constantly update us with news, it's no wonder that 37% of Brits feel that they don't get enough sleep. We've all taken our laptop to bed in the hope of watching a movie to distract us from the outside world and relax our mind before going to sleep. Yet all this does is keep us awake, leaving us groggy and tired the following morning.
Now, instead of staying up all night on Netflix, you can sleep all night with Napflix.
Napflix is a video streaming service aimed at helping people nod off by boring them to sleep. Created by two Spaniards, the free "siesta video platform" was launched due to their belief in the importance of having fulfilling naps.
The site has a catalogue of mind numbingly boring videos that include The Wonderful World of Tupperware, a documentary on Quantum physics and a 2-hour video of a burning fire place. They have even started to produce their own content, such as "Subway, from Canal St to Coney Island".
So, stop panicking when counting sheep doesn't work and fall asleep to some of the internet's dullest videos.
As we end up saying time and time again, this year has flown by. Many things have happened, but Christmas is a time to reflect on the positive and exciting moments we shared as a PR agency in 2015, and below we've put together a collection of our top moments for the year and our reactions to them – in GIF form of course!
1. Hijacking drones for April Fools' Day and PR research
Drones were a big topic in technology media this year, and through our newsjacking via consumer research, we achieved over 40 articles for Give as you Live. This contributed to an uplift in organic search – people typing 'Give as you Live' into Google – as well as a better sign-up conversion, based on Google Analytics Goals analysis.
Firefly also claimed to launch a new drone to deliver press releases straight into journalists' hands, but it was all an April Fools' joke, of course!
2. The KIDS charity Firewalk
A few of the Fireflies bravely took part in the KIDS Charity Firewalk at the start of November, walking across 20ft of hot coals and learning that "We are magnificent! We are amazing! We ARE fantastic!"
Oprah's reactions sum up the experience pretty well.
3. Hazel, Christian and Kiran join the Firefly team
While we said goodbye to some, we also said a great big hello to Christian, Hazel and Kiran, who joined as senior account director, senior account manager, and London team administrator respectively. They've all been integral team members so far, and even managed the Firewalk.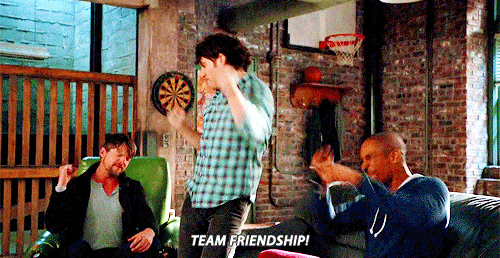 4. Client wins
We were pleased to welcome some new work with a win of four new clients in 2015, including Cornerstone OnDemand, COINS, Softmaker, and Quattro Plant Group.
5. Looking into the Crystal ball
Ever wanted to know the right way to read a journalist or client, but can't pick it just from their picture? We discovered Crystal, a tool that helps people understand and communicate with each other better by drawing a picture of their personality based on their online profiles – and it's pretty accurate too!
2015, you've been swell! We look forward to seeing what 2016 brings our way.
Christian's remit will be to support Firefly's ongoing mission to bring greater clarity to how campaigns are run, whilst also exploiting evolving channels and tactics to help client organisations achieve their communications objectives. He joins from Threepipe where he led the B2B team, running a combination of PR, social and content-led campaigns for brands such as Oracle Primavera, MindLink and the Chartered Institute of Management Accountants.
Christian brings a range of experience to Firefly, from enterprise brands Motorola, BMC Software, Rackspace and Computacenter, to start-ups uMotif, WeSwap and pro-bono work with IDEALondon, Cisco, DC Thomson and UCL's start-up incubator.
Firefly Group CEO Claire Walker says, "Our clients are under pressure to deliver impactful communications activity across a range of channels, without re-inventing the wheel. Christian's work across organic and paid online channels – as well as a solid heritage in PR and media relations – will bring a great deal to our offering."
Prior to Threepipe, Christian worked at agencies including Spark, Waggener Edstrom and The Octopus Group on a range of campaigns including launching Rackspace's OpenStack cloud in the UK in conjunction with NASA, opening the UK's first eSports arena with Gfinity, and running an award-winning campaign with AdaptiveMobile examining Wi-Fi filtering in public spaces.
You've got a great PR campaign idea and it's very tempting to jump straight into the execution phase – the exciting bit. But, be careful.  Failing to allow time for detailed PR planning may be costly in the long run. This is a conundrum for lots of our clients, and even agencies – do you put aside enough time (and budget!) for planning before PR execution kicks off? Or do you want to see all of your budget and resources go directly into activities meant to generate results?
I've always been particularly keen to push through the importance of planning. I've jumped up at many a white board and flip chart to create the 'planning vs. activity' conundrum for numerous colleagues and clients over the years, in order to emphasise why planning is key is any PR strategy
This is a crude test, but in principle, what is the best approach – A, B or C?
A is tempting with a bit of thinking and lots of doing! It's easy to feel like you're achieving something when lots is 'getting done', but are you absolutely sure you're doing the right things? This is classically when the plan says something vague and the team take off in their own directions.
B is balanced – equal thinking and doing. But the plan and the team efforts may not work together and may even conflict. There's not enough pull back to the plan and goals, analyse best actions or a focus on what absolutely needs to be achieved.
The right answer is C. You should spend more time thinking and planning than doing. If you only do what you absolutely know will be successful, then you are guaranteed to achieve your goal (without wasting precious resources) – and you'll spend less time doing all those irrelevant things. You might even get to go home on time!
A basic PR plan structure should include these key components:
Executive summary
Situational analysis
Assumptions, problems and consequences
PR/Campaign goal
Audience and messages
Objectives
Strategy
Tactics & deliverables
Schedule
Critical success factors
Budget
Evaluation
Reporting and administration
Team & responsibilities
The last word of caution. Too often we pile into writing a PR plan without any clarity and insight on the above basic points. Push and question to get clarity and leave no stone unturned when looking to understand the communication playing field. We have a thorough approach to exploring the wealth of information out there on you, your industry and your competitors. To read more about this, go to our Exhaustive insights = informed PR page.
I enjoyed reading Adam Kleinberg's 'Three Reasons why the birth of Publicis Omnicom is Good for Small Agencies' and I chuckled. He is referring to opportunities in the advertising market, but the point and opportunities hold true for PR. There will be shake-out, and we'll be sure to get first in line to benefit.
So to take Adam Kleinberg's points, with an added layer of PR perspective, I see the opportunities as thus:
Reason 1: Freedom.
Freedom is priceless. My agency is 25 years old this year and still independent despite many tempting offers. In a recent internal study within Firefly, the freedom to experiment (maybe fail), the freedom to train, to coach, to dream, to climb, to speak out, to question and to change is what really motivates our people. Our team thrive due to the freedom to deliver amazing and inspiring campaigns to our clients and they are not constrained by overbearing demands to deliver a big fat margins to meet HQ management levies.
Reason 2: The Fallout
If there are any current Publicis/Omnicom clients questioning the motivations behind this merger, they may choose to review. None of these network agencies are cheap, so if value for money is in question, you can be sure there is a better deal to be had in a very competitive market. If the merger causes a dulling and diminishing enthusiasm within the business as everyone jostles for position and power, then many clients will review and take their business elsewhere.
There will be fall-out. Independents are ready to serve.
Reason 3: The Message
The message for the merger is GLOBAL and BIG.
GLOBAL is right for some brands who have a global footprint to serve, but in my experience a collection of 'best of breed' agencies can work more effectively, with more passion, drive and creativity than a bunch of companies who all happen to have the same name on the door, or the same owner, however close or distant. This is secretly acknowledged by many global players, especially by those individuals who have experienced being part of a global operation and left.
BIG is not necessarily beautiful. Smaller agencies are nippy and thrifty, agile and flexible. We don't hide behind legal speak; we don't operate by committee. We don't have people in ivory towers; we don't have layers of expensive management to support. Everyone is close to the ground; we are lean.
Independent agencies often care more than big global players, not just because of size, but because they have more of a personal stake in the business. In particular, the owners care because they have 'skin in the game'.
So my conclusion is that 'Independents will try harder'. I find 'try' too passive but the sentiment is correct. And ironically, this conclusion is inspired by the most famous strapline in history for Avis, a phrase born from DDB, owned by Omnicom now, but an Independent then in 1962.
Perhaps Independents' Day has arrived.
Firefly Communications is delighted to announce that it has commenced work with the UK operations of ExactTarget, the leading global provider of cross-channel interactive marketing software-as-a-service (SaaS) solutions. As ExactTarget's UK PR agency of record, Firefly is tasked with delivering expert PR counsel and UK media relations and content development.
Firefly will play a key role within ExactTarget's global PR team led in the US by Finn Partners. The PR team's overall goal is to bolster ExactTarget's presence as a leading cross-channel marketing solutions provider with a completeness of vision, proven ability to execute and international footprint.
Key to Firefly's communications drive is a series of thought leadership reports, including 'Subscribers, Fans and Followers', developed by ExactTarget specifically for the UK, which identifies 13 British "online personalities" and key drivers in behavioural marketing across email and social platforms.
Is it time to shape your reputation?
We operate in London, Paris and Munich, and have a network of like-minded partners across the globe.
Get in touch
Sign up to Spark, our newsletter
Receive thought pieces from our leadership team, views on the news, tool of the month and light relief for comms folk
You can unsubscribe at any time, please read our privacy policy for more information