Our client Masternaut is known well among fleet and automotive businesses as the UK's largest provider of telematics, but in 2015 wanted to expand its reach to other parts of the business which could benefit from telematics. These business disciplines – such as HR and finance – look for support in areas such as cost control, tax and expense, insurance and duty of care to employees, which is something that comfortably fits into the capabilities of a telematics deployment.
To achieve these goals, broadening media awareness and reaching other decision makers in the business, Firefly created a campaign that not only targeted the fleet industry, but also new markets such as HR and business titles.
Firefly needed a theme that would not only appeal to these broader verticals, but a theme that everyone could relate to and take interest in reading about: driving when tired and the importance of driver safety.

Firefly conducted research polling professional drivers in the UK on the frequency of their breaks on long journeys. With these insights, Firefly crafted content revealing that eighteen per cent of business drivers do not stop for a break when driving for extended periods of time. Some business drivers admitted to taking extreme measures to avoid nodding off when driving, such as singing out loud to the radio.
With compelling data and a tenacious sell in, Firefly achieved outstanding coverage results and developed new journalist relationships in the key verticals. The story saw 81 pieces of coverage between late November and early January, in fleet, HR, business and regional press across the UK.
Firefly's use of media relations and research resulted in a successful campaign that gave Masternaut a foothold in new sectors, resulting in commercial opportunities for Masternaut to pursue. From four research releases and dedicated media sell ins around driver safety in 2015, Firefly achieved over 200 pieces of coverage in five new vertical sectors that Masternaut wanted to expand to, including HR, health and safety, and business. The campaign increased brand awareness to such an extent that a follow-up direct mail campaign gained a 20% higher open rate than previous campaigns and opened the door to new business prospects in new verticals – including new business leads from coverage seen in the media.
As we end up saying time and time again, this year has flown by. Many things have happened, but Christmas is a time to reflect on the positive and exciting moments we shared as a PR agency in 2015, and below we've put together a collection of our top moments for the year and our reactions to them – in GIF form of course!
1. Hijacking drones for April Fools' Day and PR research
Drones were a big topic in technology media this year, and through our newsjacking via consumer research, we achieved over 40 articles for Give as you Live. This contributed to an uplift in organic search – people typing 'Give as you Live' into Google – as well as a better sign-up conversion, based on Google Analytics Goals analysis.
Firefly also claimed to launch a new drone to deliver press releases straight into journalists' hands, but it was all an April Fools' joke, of course!
2. The KIDS charity Firewalk
A few of the Fireflies bravely took part in the KIDS Charity Firewalk at the start of November, walking across 20ft of hot coals and learning that "We are magnificent! We are amazing! We ARE fantastic!"
Oprah's reactions sum up the experience pretty well.
3. Hazel, Christian and Kiran join the Firefly team
While we said goodbye to some, we also said a great big hello to Christian, Hazel and Kiran, who joined as senior account director, senior account manager, and London team administrator respectively. They've all been integral team members so far, and even managed the Firewalk.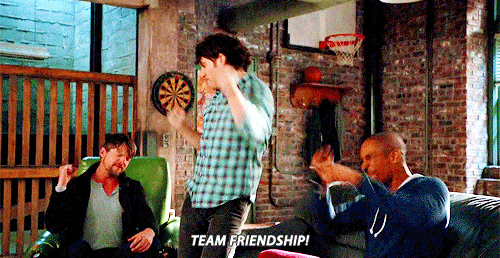 4. Client wins
We were pleased to welcome some new work with a win of four new clients in 2015, including Cornerstone OnDemand, COINS, Softmaker, and Quattro Plant Group.
5. Looking into the Crystal ball
Ever wanted to know the right way to read a journalist or client, but can't pick it just from their picture? We discovered Crystal, a tool that helps people understand and communicate with each other better by drawing a picture of their personality based on their online profiles – and it's pretty accurate too!
2015, you've been swell! We look forward to seeing what 2016 brings our way.
Christian's remit will be to support Firefly's ongoing mission to bring greater clarity to how campaigns are run, whilst also exploiting evolving channels and tactics to help client organisations achieve their communications objectives. He joins from Threepipe where he led the B2B team, running a combination of PR, social and content-led campaigns for brands such as Oracle Primavera, MindLink and the Chartered Institute of Management Accountants.
Christian brings a range of experience to Firefly, from enterprise brands Motorola, BMC Software, Rackspace and Computacenter, to start-ups uMotif, WeSwap and pro-bono work with IDEALondon, Cisco, DC Thomson and UCL's start-up incubator.
Firefly Group CEO Claire Walker says, "Our clients are under pressure to deliver impactful communications activity across a range of channels, without re-inventing the wheel. Christian's work across organic and paid online channels – as well as a solid heritage in PR and media relations – will bring a great deal to our offering."
Prior to Threepipe, Christian worked at agencies including Spark, Waggener Edstrom and The Octopus Group on a range of campaigns including launching Rackspace's OpenStack cloud in the UK in conjunction with NASA, opening the UK's first eSports arena with Gfinity, and running an award-winning campaign with AdaptiveMobile examining Wi-Fi filtering in public spaces.